Healthy & Stress Free Cooking for One Recipes at Age Well for Dun Laoighaire Rathdown Co. Co.
Jun 12, 2023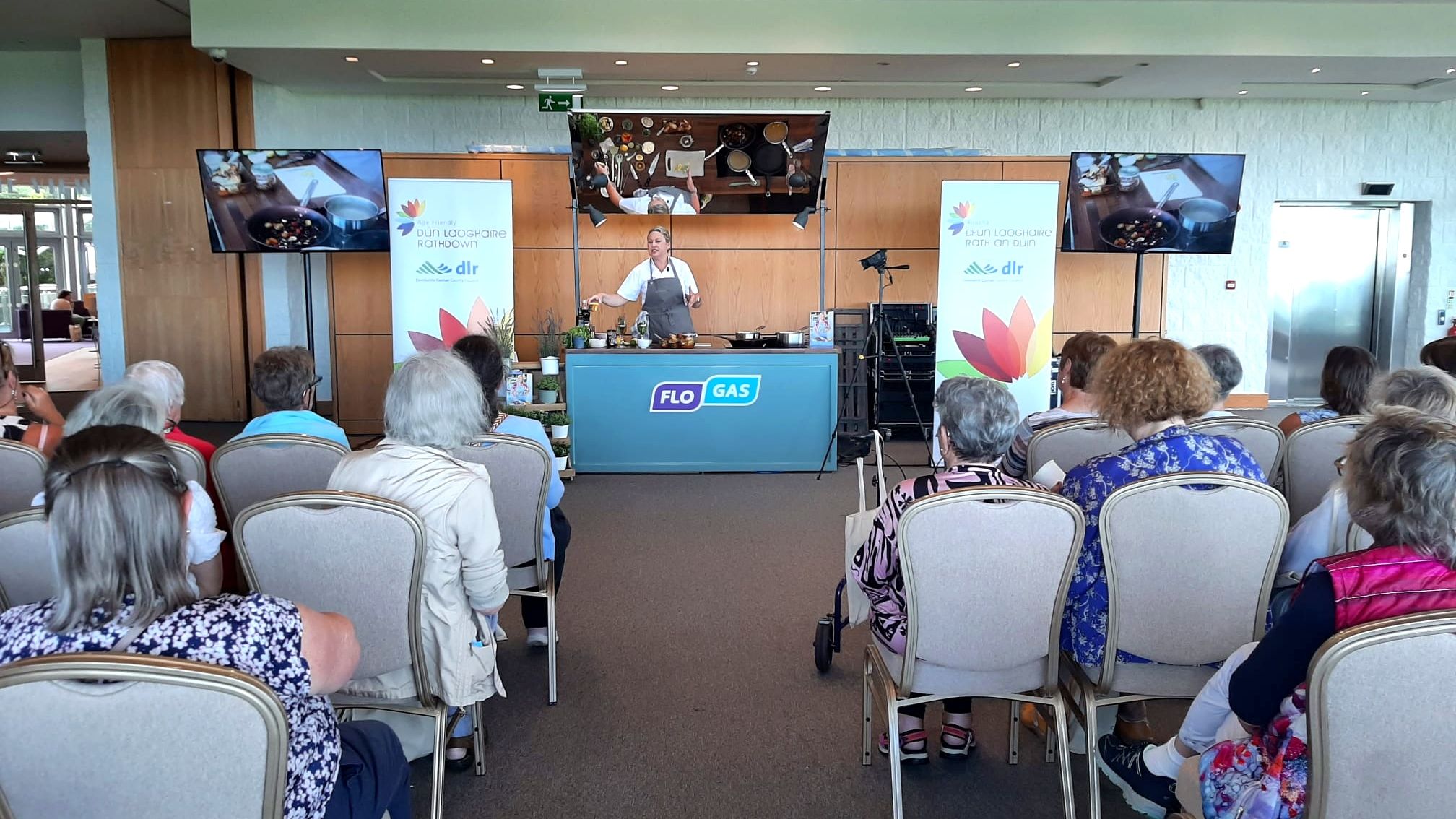 Hello to some of you who attended my cookery demonstrations at Leopardstown Racecourse!
Thanks so much for attending and all the wonderful comments and questions. As promised, the theme for the demostrations was to take the stress out of cooking for one with three quick, easy and nutritious dishes
that are perfect for one person but also easy to scale up for more than one person.
There were one pan or tray dishes and a "cook once, eat three times" dish featured
which aimed to help you bring joy and deliciousness to your kitchen.
Here are the recipes from my cook book, Good Food No Stress which is available to purchase here on the website
Chicken Tray Bake with Green Salad
Serves 4
8 Chicken pieces, a mixture of thighs, drumsticks and skin-on breast on the bone.
Potatoes, washed and cut into 1" chunks
Red Onion, peeled and cut into wedges
1 Orange, cut into wedges
8 Garlic cloves peeled but left whole
1 Courgette sliced into 2" chunks
1 Red or Yellow Pepper, sliced into 2" chunks
A few cherry tomatoes
Woody herbs such as rosemary, thyme, oregano. Fresh is best but dried can also be used.
Olive oil to drizzle
Method:
Preheat the oven to 200˚C, 180˚C Fan, Gas Mark 5
Place the chicken pieces on a large roasting dish and add all the other ingredients to the dish. Season with salt and pepper and drizzle with olive oil.
Roast for 30 mins, checking and stirring every 10 mins or so to ensure the top ingredients don't burn.
Serve with a simple green salad
Thai Chicken Noodle Broth
One of my favourite winter warmers, I crave this when I am sick with a cold or flu, or simply a bit tired and stressed. I am not mad about the term 'clean eating' but it does describe this pretty well. This is a great way to use up leftover roast chicken if you have it, but if you don't you can use chicken fillets as per the recipe below. If you have roast chicken left over, simply shred it and add it in for the last minute of cooking to heat it through.
Serves 2
Ingredients
750ml chicken or vegetable stock
1 chicken fillet, sliced into bite-sized pieces
1 tablespoon nam pla (Thai fish sauce)
Juice of 1 lime or lemon
1 clove of garlic, finely sliced
1 large piece of ginger, peeled and sliced
1 nest of medium egg noodles
3 handfuls of mixed vegetables (e.g. baby sweetcorn, mangetout, pak choi, spinach, peppers, sugar snaps, beansprouts)
1 fresh red chilli, sliced (optional)
A small bunch of coriander or flat-leaf parsley, chopped
2 spring onions, sliced
Method
Put the stock into a large pot and bring to the boil. Place the chicken, nam pla, lime/lemon juice, garlic and ginger into it and poach over a medium heat for 3–4 minutes or until the chicken has turned white. Make sure the water is not boiling too hard or the chicken will break up.
Add the noodles and the harder vegetables, such as the corn (if using) and peppers. Poach for another 3–4 minutes.
Remove a large piece of chicken and slice in half to check that it is cooked through. If it is cooked, switch off the heat.
Add the leafy greens and any other vegetables you are using and stir through. Taste for balance between the citrus juice and nam pla. Adjust to your liking by adding more nam pla if necessary.
Ladle into bowls, ensuring a good mix of all the ingredients with poaching liquid. When serving, sprinkle with the chilli (if using), herbs and spring onions.
Quesadillas
For each quesadilla, you will need:
2 wraps
Some grated cheese (about 50g)
A tablespoon of sour cream
Lime
Salt
Relish
Or A selection of fillings such as: ham, spring onion, peppers, chilli, leftover chicken, coriander
To make:
Pop the sour cream into a bowl and add the juice of a lime and a generous pinch of salt. Stir well to combine.
Heat a non stick frying pan over a medium heat and add a tortilla. Sprinkle your filling over it evenly and top with the second tortilla.
Toast gently for a couple of minutes, using a spatula to check the underneath is not burning.
When the cheese has melted, it will be easier to flip the quesadilla over in the pan to toast the other side.
When it is golden brown all over, remove to a chopping board and cut into wedges.
Serve with the sour cream.
Spicy Tomato, Olive & Tomato Wholemeal Spaghetti
I suppose this is a cross between a pasta puttanesca ('lady of the night') and a pasta aglio, olio e peperoncino (garlic, oil and chilli pepper). Mini mozzarella balls are very useful for this recipe as well. I've only added a handful of olives here, but if you love olives feel free to go mad!
Serves 2
Ingredients
100g Spaghetti
Olive oil
1 clove of garlic (thinly sliced)
2 anchovies (optional)
A large handful of Kalamata olives, stoned
1 teaspoon of dried chilli flakes
A few cherry tomatoes, halved
1 buffalo mozzarella, sliced in half cm discs
2 sprigs of flat-leaf parsley or basil
Method
Cook the spaghetti according to the pack instructions until al dente.
Gently heat a good glug of oil in a large frying pan and add the garlic, anchovies (if using), olives, chilli flakes and cherry tomatoes. Cook until the garlic has softened a little and the anchovy has started to dissolve (2–3 minutes). Toss the spaghetti through it and add a tablesppon of the pasta water.
Toss the slices of mozzarella through the cooked spaghetti and serve with the fresh herbs sprinkled over the top.